"Fortnite Season 5 Week 2 challenges will require you to land at Paradise Palms and Loot Lake"
Last week, Fortnite Season 5 began with challenges splitting into 2 types – Free and Battle Pass. A player can complete 3 free challenges and earn 20  battle starts without buying Battle Pass. For Battle Pass owners, players can complete 3 free challenges and 4 battle pass challenges and earn 50 battle stars. The Fortnite Season 5 Week 2 challenges are now leaked via Fortnite Tracker DB and below you can find all the details.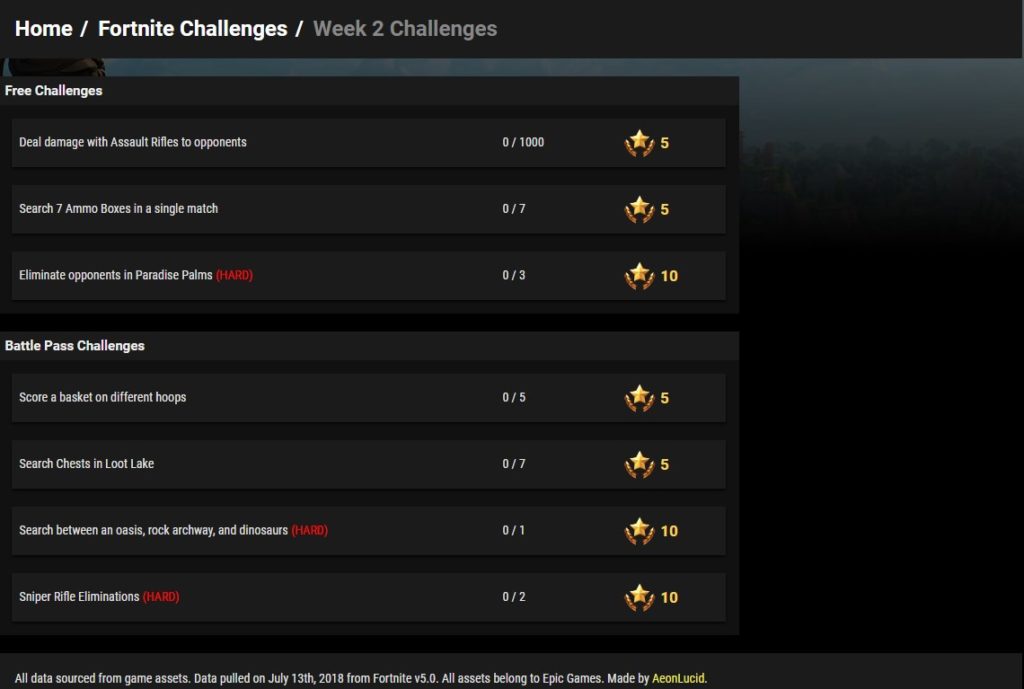 Free Challenges:
Deal Damage with Assault Rifle to opponents (0/1000):
This is a simple straightforward challenge. Rare and Legendary assault rifles will help you achieve the target faster. Combine this challenge with Paradise Palm challenge to get 15 battle stars in one shot.
Search 7 Ammo Boxes in a single match (0/7)
Eliminate opponents in Paradise Palms (0/3):
This will be one of the hardest challenges since it's a new place and you could see people already landing at Paradise Palms.
Battle Pass Challenges:
Score a basket on different hoops (0/5):
Fortnite Season 5 introduced Toys such as Basketball, Golf and Beach Ball in order to have fun around the map. Players on reaching Battle Pass Tier 11 will receive a basketball. You will require to score baskets at 5 different locations in order to complete the challenge. You can find these hoops at various locations such as Junk Junction, Pleasant Park, Tilted Towers, Tomato Town, Greasy Grove, and many more.
Search chests in Loot Lake (0/7):
This challenge will also consume time because you will be finding a lot of players dropping at Loot Lake and the maximum number of chests available at Loot Lake are 14.
Search between an oasis, rock archway, and dinosaurs (0/1):
The battle star is located in the desert biome near to the Paradise Palms. Check out the below image in order to locate the battle star.
Sniper Rifle Eliminations (0/2):
This is harder for players who struggle to eliminate opponents by Sniper Rifle.
Upon completion of Week 2 challenges, you can receive the Loading Screen, which will contain a hidden battle star location and further you can receive 10 battle stars on finding it.
The Season 5 Week 2 challenges will go live on 19th July.