"Style, Profile and Celebrate WWE Hall of Famer Ric Flair with the WWE 2K19 Wooooo! Edition"
2K today announced plans for the Wooooo! Edition of WWE 2K19, the forthcoming release in the flagship WWE video game franchise. Honoring 16-time WWE World Champion, global pop culture icon and WWE Hall of Famer Ric Flair – a man whose attitude and accomplishments represent "Never Say Never" to the fullest – The WWE 2K19 Wooooo! Edition will be available for PS4 and Xbox One at ₹9,999/-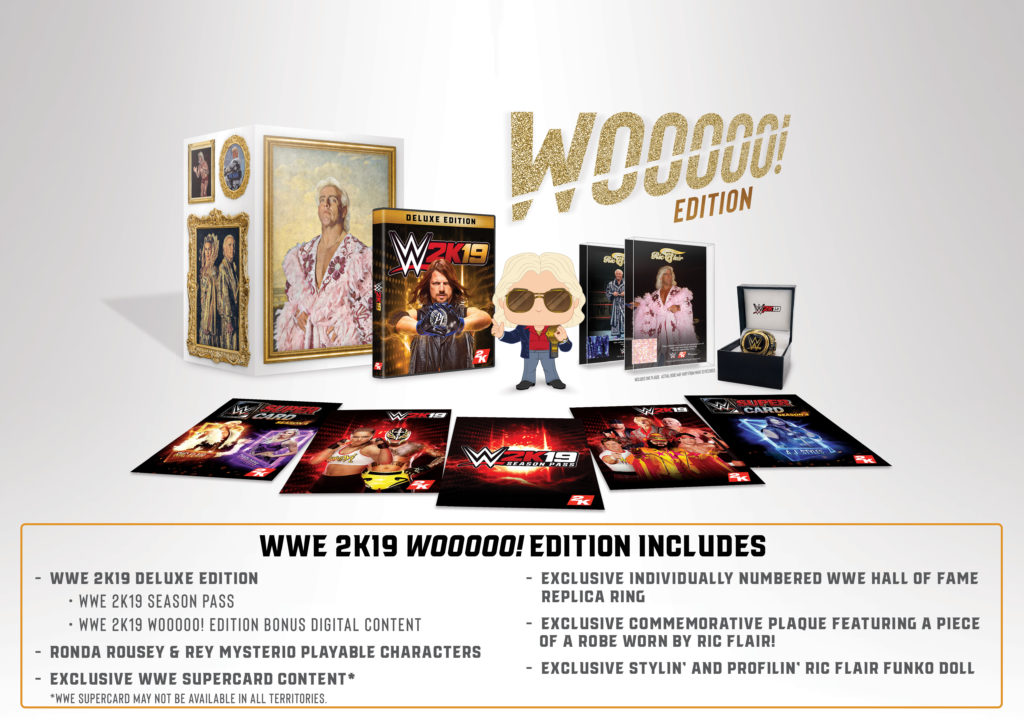 The WWE 2K19 Wooooo! Edition includes:
WWE 2K19 Deluxe Edition, which includes the exclusive following items:

Access to WWE 2K19 Season Pass digital content (details announced this summer);
WWE Hall of Famers ('80s-inspired): "Rowdy" Roddy Piper, Dusty Rhodes and Ricky "The Dragon" Steamboat;
Playable characters such as "Macho Man" Randy Savage (WrestleMania® VIII) and Undertaker (2002);
Playable arena: Starrcade 1983;
Exclusive in-game attire: Ric Flair (WrestleMania 24 robe) and Charlotte Flair (WrestleMania 32 robe);
Pre-order bonus digital content;
WWE SuperCard limited edition cards featuring WWE 2K19 cover Superstar AJ Styles, as well as an AJ-themed WWE 2K19

Premium packaging;
Individually numbered WWE Hall of Fame replica ring;
"Nature Boy"-inspired Funko Pop! figurine;
Fanatics limited edition commemorative plaque featuring a fabric piece from Ric's iconic pink or purple robe;
WWE SuperCard limited edition cards featuring Ric and Charlotte Flair, as well as a Ric-themed WWE 2K19
"For all of my fans around the world, it's exciting and humbling to see my career immortalized through the power of video games," said Ric Flair. "This is going to be one stylin,' profilin,' limousine riding, jet flying, kiss-stealing, wheelin' 'n' dealin' son of a collector's edition, and you don't want to miss out. Wooooo!"
WWE 2K19 is releasing on October 9 for  PS4, Xbox One, and PC.