"It's time to Hole in One in Fortnite Season 5 Week 5 challenges"
We're now half-way through Fortnite Season 5. Fortnite Season 5 Week 5  challenges have been leaked via DB Fortnite Tracker. The 7 challenges are listed below and guide on how you can complete them.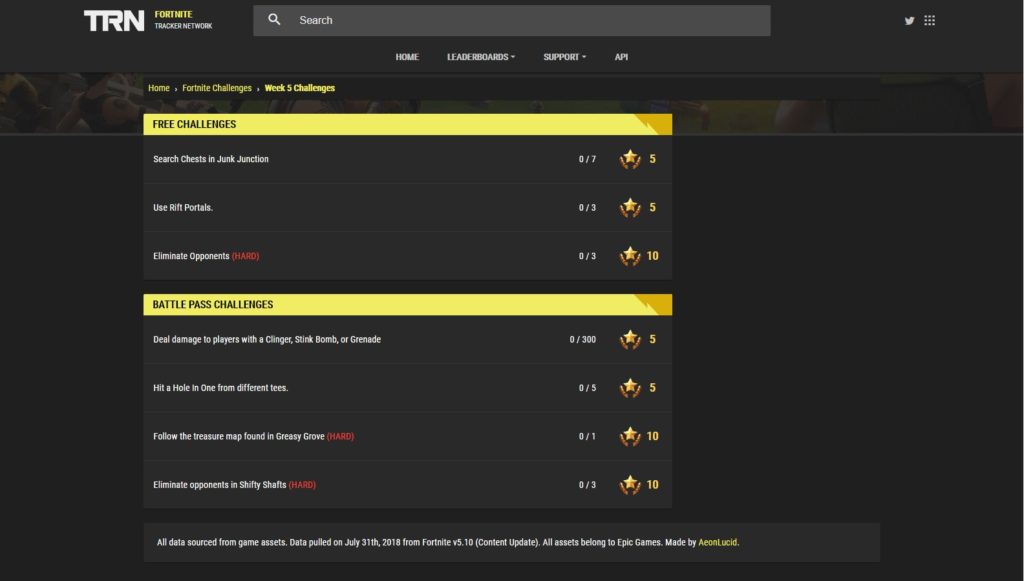 FREE CHALLENGES:
Search Chests in Junk Junction (0 / 7): The 7 chests challenge is back and this week you will need to land at Junk Junction. In Junk Junction, you can come probably across at least 6 chests max in one go. But depending on the number of people landing this week. It will take you more than one try.
Use Rift Portals (0 / 3): Fortnite Season 5 has brought tons of addition in the map. Rift Portals are one of them. Using Rift Portals will drop you from the sky and you can land at a different location. By now you would've seen numerous Rift Portals around the map. So completing this won't be hard enough for you.
Eliminate Opponents (HARD) (0 / 3): Well, this challenge is simply straight-forward. All you need to do is take down 3 opponents. The challenge could've been made tougher by letting people eliminate 3 opponents in a single match or use any specific weapon.
BATTLE PASS CHALLENGES:
Deal damage to players with a Clinger, Stink Bomb, or Grenade (0 / 30): Seems like Fortnite wants you to become pro at eliminating opponents by using explosive weapons. Another week, where you need to eliminate 3 opponents either by using Clinger, Stink Bomb or Grenade.
Hit a Hole In One from different tees (0 / 5): Get your Golf sticks out! It's time to score 5 holes in golf. Hole in One is where things get interesting, you will need to score a hole in just 1 shot.
Follow the treasure map found in Greasy Grove (HARD) (0 / 1): Last season, the treasure map found in Greasy Grove led us to the evil lair from where the rocket took-off. This season we're not sure of what locations the treasure map will reveal. It can probably Tilted Towers or Flush Factory.
Stay tuned on our site, to know the battle star location.
Eliminate opponents in Shifty Shafts (HARD) (0 / 3): Last season we faced a challenge to open-up battle chests in Shifty Shafts. This week, you will just need to eliminate opponents in there. Eliminating 3 opponents in Shifty Shafts will complete 2 challenges in one go.
Fortnite v5.20 Patch introduced new double barrel shotgun, LTM, and lot of improvements.
Let us know what you think of these challenges and good luck completing them.