"The Division 2 Open Beta doesn't carry over your Private Beta progress"
The Division 2 will be available from March 1 – 4 on Xbox One, PlayStation 4, and PC. If you did not get the chance to participate in our Private Beta phase, now is your chance!  The open beta introduces you to some of the unique features The Division 2 has to offer: main missions, side missions, open world activities, and one of the three Dark Zones.
Time Table and Preload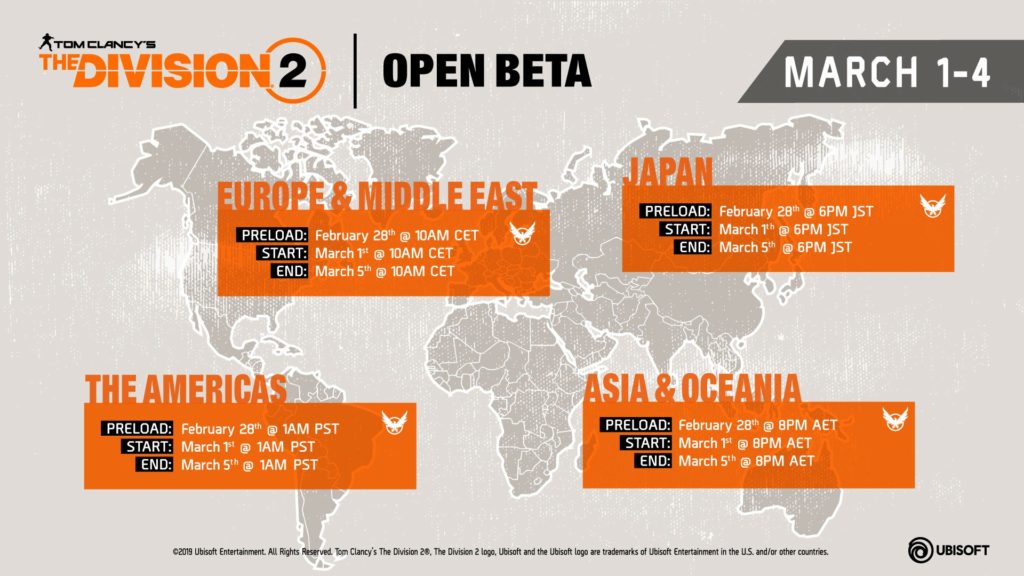 Beta Content

Story Mode & Open-World
Three main missions are available on Normal and Hard modes—Grand Washington Hotel, Jefferson Trade Center, and Viewpoint Museum—to offer a smaller piece of a much larger, a compelling narrative we are telling from start to finish.
As you explore D.C., five optional Side Missions will also be available for everyone who prefers to branch out from the main storyline. In addition, a variety of Control Points and living world activities await in the Open Beta.
Dark Zone & Conflict
Dark Zone East—available on the right side of D.C., players utilize long sightlines in over-grown governmental parks. You will acquire the DZ East introduction mission from Senait Ezera—the new Dark Zone NPC in the Base of Operations—after completing Jefferson Trade Center. Completing this intro-mission unlocks full access to the Dark Zone and its features.
For players who are looking for dedicated 4v4 PVP, Conflict is available during the beta test. One mode, Skirmish, will be accessible on two maps: Stadium and Capitol Ruins. We encourage everyone to jump in and provide feedback on the PVP experience!
End Game
We are excited to announce that the Open Beta will also feature a portion of The Division 2's end game! After completing Jefferson Trade Center for the first time, you will gain access to an end-game mission that unlocks three levels 30 characters on your account. Upon logging in with one of these characters, the end game mission will begin. Each character is equipped with a different Specialization, so feel free to find your favorite! In contrast with the Private Beta, this end game mission will be available with the start of the Open Beta.
Private Beta users
For everyone who has already participated in the Private Beta, here are the additional content highlights for the Open Beta:
Character level cap increase to level 8

An additional Story mission—Viewpoint Museum

An additional Skill—Chem Launcher with two variants, Riot Foam, and Explosive Vapor

Two additional Settlement Projects with the second upgrade of the Theater

An additional Skirmish PVP map—Capitol Ruins
Beta Progress will not carry over
To ensure that all players start the game on the same level and enjoy a fair gaming experience, the progress achieved during the Beta will not transfer to the live server.
Your Progress from the Private Beta will also not carry over in the Open Beta, so you have to start from scratch.
Beta Rewards
Players who complete certain tasks in the Open Beta will unlock in-game rewards accessible in the full game. Anyone who participates in the Beta will unlock the DC Patriot weapon skin and Capitol Hill backpack trophy. Complete the endgame Invaded mission and the Dark Zone East introduction mission, and you'll earn the Capitol Hill arm patch and Supply Crate backpack trophy, respectively.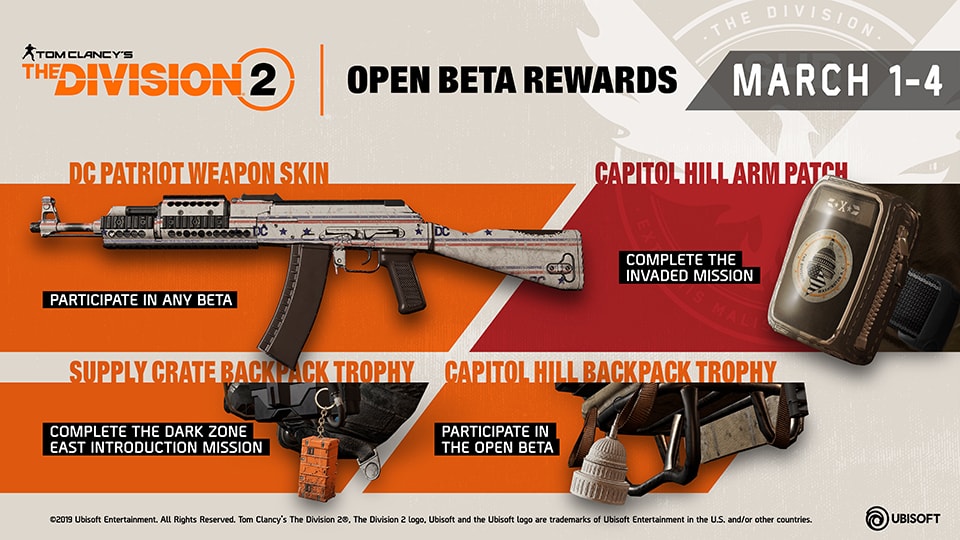 Contest Announcement
We have got a huge announcement to make for you guys. Check out News by Games The Shop tomorrow to find out more.
And don't forget, The Division 2 Washington D.C Edition is available to pre-order.