Cyberpunk 2077 Trailer revealed at E3 2018
CD Projekt Red's upcoming RPG game Cyberpunk 2077 trailer revealed at Microsoft E3 2018 conference.
In 2077, Night City voted to be the worst city in America, where the city is in control of MegaCorp's industry who manages every aspect of life from the top floors of their sky-scraping fortresses.
But the streets aren't empty. Drug gangs, tech hustlers, and illegal braindance slingers control it and then there is sex-pop culture mixed with violent crime, extreme poverty.
Before we spoil it too much for you, let's enjoy the trailer.
Cyberpunk 2077 Screenshots: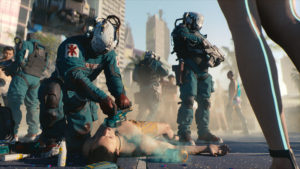 Pre-order the game from Games The Shop
Stay tuned on our website for more details on Cyberpunk 2077