"Get ready to land at Dusty Divot and Flush Factory to complete Fortnite Season 5 Week 4 challenges"
New week, new challenges are available for you to complete. Fortnite Season 5 Week 4 challenges are leaked via Fortnite Tracker. Below you can the find the list and guide on how to complete them.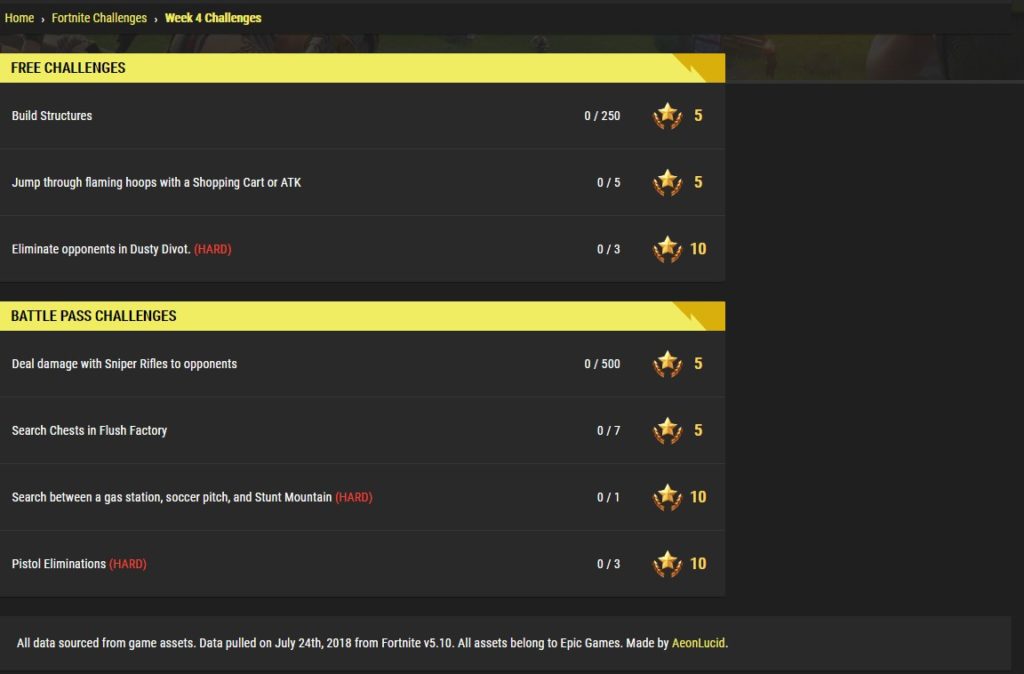 FREE CHALLENGES:
Build Structures (0/250)
Players need to build structures during the fight in Battle Royale. Building a structure of worth 250 resources will complete this challenge.
Jump through flaming hoops with a Shopping Cart or ATK (0/5)
Get board on your Shopping Cart or ATK, as you will require to jump through the flaming hoops in Battle Royale. Till now, we haven't yet come across any such hoops. Stay tuned on our page to find out more about the flaming hoops and their locations.
Eliminate opponents in Dusty Divot. 

(HARD) (0/3)
It's time to pay a visit to a new location in order to complete this week challenge. Land at Dusty Divot and take down 3 opponents in order to complete this challenge.
BATTLE PASS CHALLENGES:
Deal damage with Sniper Rifles to opponents (0 / 500)
New week but the same old challenge, players will now just have to deal 500 damage to opponents via sniper rifle. The easier way of putting this is to eliminate at most 5 opponents by a sniper rifle.
Search Chests in Flush Factory ( 0 / 7)
It's time to land at Flush Factory and loot 7 chests in order to complete this challenge.
Search between a gas station, soccer pitch, and Stunt Mountain 

(HARD) (0 / 1)
Players will now to locate a battle star at a new location. Check out the below map to find the battle star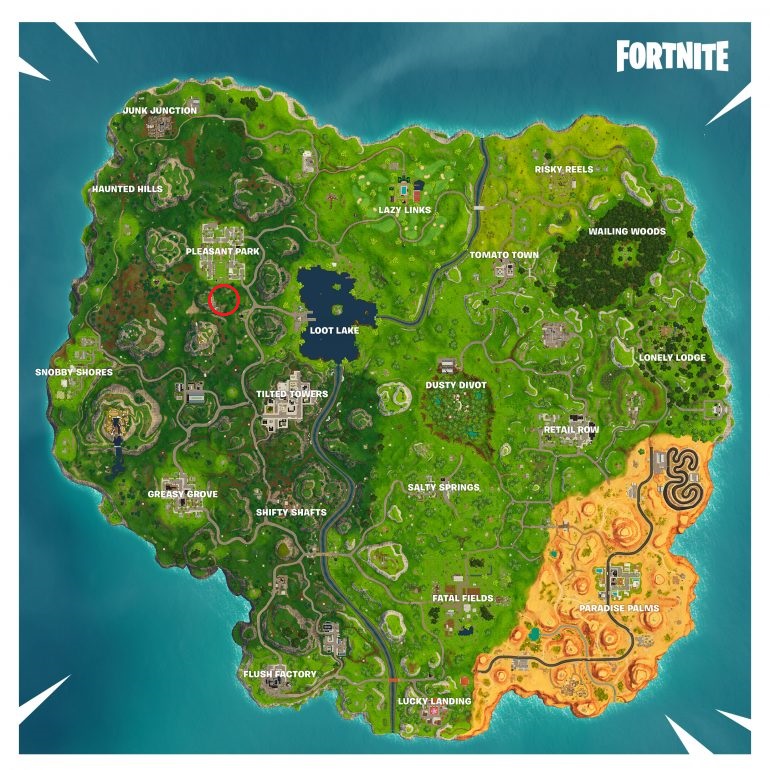 Pistol Eliminations 

(HARD) (

0 / 3)
Well as hard as it sounds it's not, it's easy to eliminate opponents by using pistols. This challenge can be combined and completed with the Dusty Divot challenge to get 20 battle stars.
Completing the above challenges will unlock Week 4 Loading Screen, which will contain the location of the hidden battle star.
Let us know in the comments what you think of the Week 4 challenges.